[vc_row][vc_column width="3/5″][vc_column_text woodmart_inline="no" text_larger="no"]
Saint Simeon Mirotočivi Parish in Las Vegas, Nevada
St. Simeon Mirotočivi (Myrrhflowing) Serbian Orthodox church in Las Vegas doesn't have a long history, and it is one of the younger parishes in the Western American Diocese. The big historical day for the St. Simeon Church in Las Vegas is August 5th, 1979. On that day Father Nikola Sorajic served the first liturgy…[/vc_column_text][/vc_column][vc_column width="2/5″][vc_column_text woodmart_inline="no" text_larger="no"]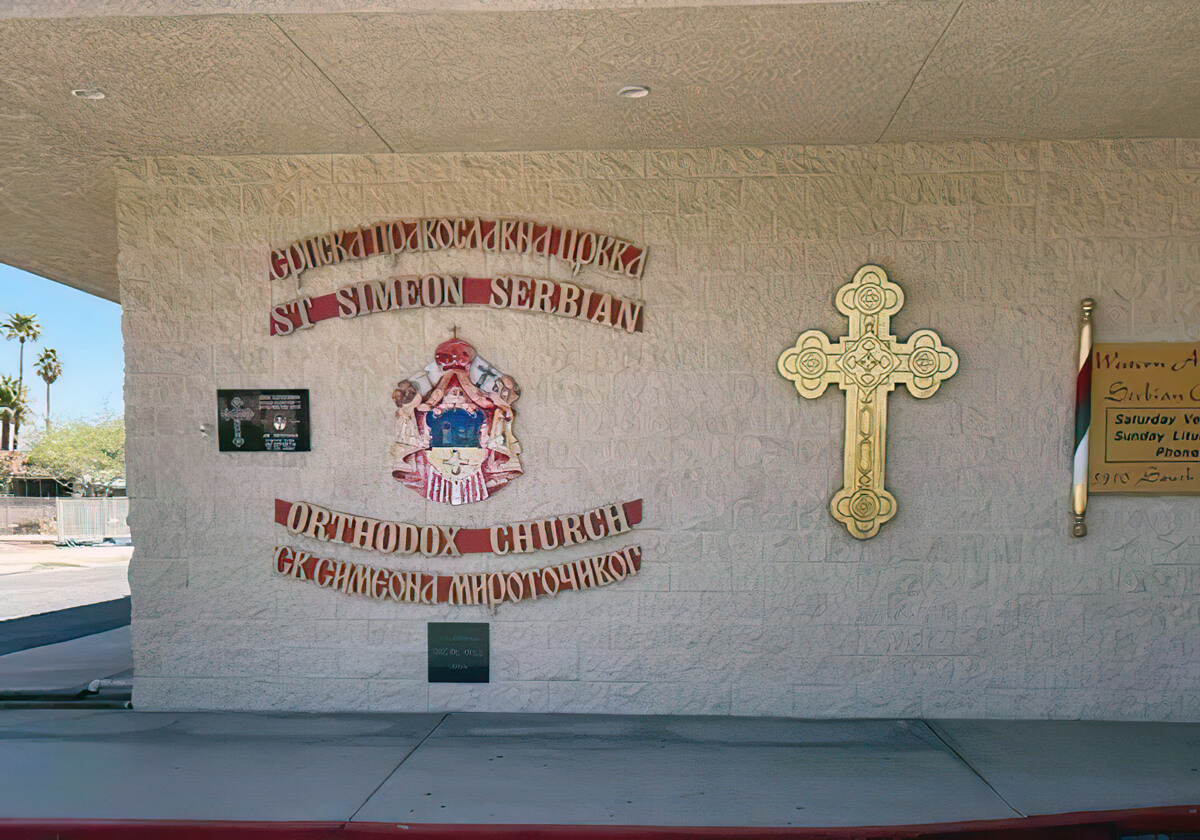 [/vc_column_text][/vc_column][/vc_row][vc_row][vc_column][vc_column_text woodmart_inline="no" text_larger="no"]
Church Built On land
That was the blessing of the beginning of all the upcoming events and that is when this parish was founded. Soon after, the governing board was formed, and those members were: Father Nikola Sorajić, Aleks Vranješ, President, and Jovo Paripović who was President of the building committee. They found a beautiful five acre parcel and after the big meeting which was held on November 17th 1980, they decided to buy the land. The land value at that time was $450K, but since it was purchased for the purpose of building a church, the price was reduced to $225K. Once the land was purchased, there was a great deal of desire to start building. On February 20th 1982 there was another great event, the blessing of the land for first Serbian Orthodox Church in Nevada. From that day started the building of today's chapel, social hall, offices and everything else. Funds were an issue, land was supposed to be paid for, and at the same time construction of the chapel, social hall and everything else needed to start. It was necessary to get a loan in order to start construction.
The Loan was approved and in record time social hall, chapel and everything else, was done beautifully. Progress was swift, and initial construction was completed in 1983, The Serbian Center in Las Vegas was complete at that time as it was called. Not even five years later, early in 1988, there was a division of the parish after a disagreement. St. Simeon Orthodox Church was left without a priest. Just like a beehive without mother-bee is condemned to destruction, that is how a parish without a priest is also unthinkable. Not long ago after that, in the same year, came a priest from Serbia, Father Spasoje Janković to continue the par- ish life and rejuvenate spiritual and church life. Unfortunately, shortly after his work visa wasn't set up properly he had to return back to Serbia. Once again the parish was without a priest.[/vc_column_text][/vc_column][/vc_row][vc_row][vc_column][vc_video link=" https://www.youtube.com/watch?v=YfiaDeVFgZw" image_poster_switch="no"][/vc_column][/vc_row][vc_row][vc_column][vc_column_text woodmart_inline="no" text_larger="no"]
Parish
At that time retired priest Father Milorad Dobrota from San Diego, administered the parish until 29th of January 1990. From that day on until today the parish priest is Father Uros Todorovic. Since 1990s until today the parish has drastically changed and improved in many ways. The church had been in debt, but thanks to the authority of Jovo Paripović debt was paid off. Parishioners lent the money to the church to pay off the bank loans and church returned the money to the parishioners as funds were coming in the parish. Once all of the debts were paid, idea was born to start building a new church. Meanwhile the biggest change that occurred was that the parish grew after the unfortunate wars in Yugoslavia as Serbian families started coming to Las Vegas, and those families are the main lead of the parish today. It was meant to be for the new families to continue what the founders started. Just before the big Christian holiday of St. George on Sunday, May 2nd 1999 an all hands meeting was held to present an idea and desire to build a new church on the existing land that was already paid for. Idea was accepted overwhelmingly and decision was made to build a new church.
The Charter for the ground consecration of St. Simeon church, in Las Vegas 2008That May 2nd was another day that will be remembered as one of the very important dates in parish's history. At that time church was debt free but there were very limited funds that were on hand. Funds started coming in slowly and early preparations started for building the church. An architectural design needed to be created and approved so construction could start. At first we were fortunate to receive architectural plans and designs as a gift from a well-known and respected architect Oton Urban. In order to bring that plan to life the parish needed to hire an architectural firm that would create a detailed plan, and the cost of that engagement was around $200K. Once the parish were ready to start the construction we encountered numerous roadblocks on the way. Plans had to be changed two times, as the original plans called for a higher building and that was against city rules. Once plans were altered for
the third time, a permit was granted and construction of the new church could begin. There is never an easy time to build a church, and that is exceptionally hard if appropriate funds are not available.
Plan was in place to once again take a loan and start building the church. Unfortunately this was all going on in 2008, as the big credit crunch
happened and it was impossible to obtain a construction loan. The Church had $1M in the bank and while that wasn't nearly enough to complete the construction, it was a good base to start construction. Las Vegas is the most populous city in the U.S. state of Nevada and the county seat of Clark County. Las Vegas is an internationally renowned major resort city known primarily for gambling, shopping, fine dining, and nightlife and is the leading financial and cultural center for Southern Nevada. The city bills itself as The Entertainment Capital of the World, and is famous for its consolidated casino–hotels and associated entertainment. A growing retirement and family city, Las Vegas is the 31st-most populous city in the United States, with a population at the 2010 census of 583,756. The 2010 population of the Las Vegas metropolitan area was 1,951,269. Today, Las Vegas is one of the top tourist destinations in the world.[/vc_column_text][/vc_column][/vc_row]